JUST LANDED IN NIGERIA: The Most Beautiful, Portable And Universal Acquarium For Home Or Office.
Though cats and dogs are seen as the typical pets, the 2019 National Pet Owners Survey shows that aquarium fish are kept as household pets in over 13 million American homes. This makes them the third most popular type of pet, after dogs and cats, of course. Keeping a home aquarium is a big responsibility, but it does have its benefits.

THE SURPRISING HEALTH BENEFITS OF A HOME AQUARIUM
1. Reduced levels of stress.

It's difficult to feel stressed when looking at a thriving home aquarium. There's just something peaceful about it that calms you and those around you. This is part of the reason you'll find fish tanks in high-stress environments like offices and hospitals. Managing your stress level is very important for your overall health and wellbeing. Not only can spending time around your tank help calm you down but having a routine you follow in taking care of it can be beneficial as well.
An aquarium makes a great focal point and gathering place in the home and provides a fun activity for the whole family. Aquariums teach kids about nature and caring for one helps them learn responsibility. Placing one in a child's bedroom can help them fall asleep at night. Viewing an aquarium is also a great alternative to playing video games or watching TV. And if you rent, most landlords that don't allow dogs or cats will be fine with an aquarium.
In the office or workplace, an aquarium can boost morale, which in turn has a positive effect on productivity. And if you're the owner of a restaurant or tavern, a stunning aquatic setup with plants and colorful fish will make your establishment the talk of the town, bringing patrons in from far and wide. Even banks, department stores, movie theaters and libraries feature aquariums in their establishments.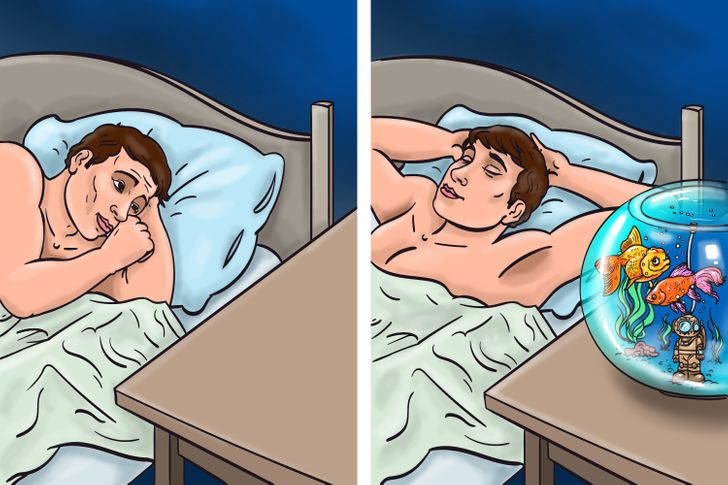 2. Improvements in sleep quality.
A good night's sleep is the key to long-term health. Sleep is how your body recharges and repairs itself – it also gives your brain time to consolidate memory and build new connections. For many people, sleep doesn't come easy. Watching your fish tank before bed may help calm your body and your mind enough to fall asleep, saving you from spending half the night tossing and turning. If your fish tank is in the room you sleep in, it may also provide some white noise to help you fall asleep.
3. Lowered blood pressure and heart rate.
When you feel less stress and get more sleep, your body will feel and function better. More than that, however, having a fish tank can actually improve your heart health. Looking at a fish tank can slow your heart rate and lower your blood pressure. According to one study, looking at an empty tank reduced heart rate by 3% while a tank with fish present yielded a 7% reduction. If you struggle with high blood pressure or other heart health issues, having a fish tank in your home could help you immensely.  
FREQUENTLY ASKED QUESTIONS
1. Is the fish a live fish or electric fishes ?
Ans: They are all real live fishes.
 2. What do they eat and how do i feed them?
Ans: They have their own feeds and we will send you one for free if you order now
FILL THE FORM BELOW TO ORDER NOW